Created by John Lundberg - "That's a really good looking t-shirt" Jim Channon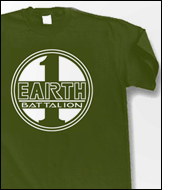 Welcome warrior monks. We've printed up a fresh batch of military green First Earth Battalion (FEB) t-shirts to tie in with the film release of The Men Who Stare at Goats.

'If you want to be a member, you already are'
Lt. Col. Jim Channon

The FEB is a proto-mythical US Army unit founded by Lt. Col. Jim Channon. These t-shirts have been created with Jim's encouragement and blessing.

The FEB is featured in Jon Ronson's best selling book The Men Who Stare at Goats. (Buy it from amazon: UK / USA).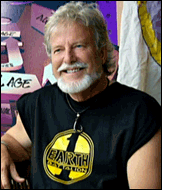 Find out more about the FEB and its creator Jim Channon (pictured left, in a FEB t-shirt).

The t-shirts are pre-shrunk, 100% cotton with the FEB logo on the front and a quote from Jim Channon on the back.

COST: £18 plus postage and packaging. (UK - £2, Rest of World - £3.)







WE ARE NO LONGER SELLING FEB T-SHIRTS.